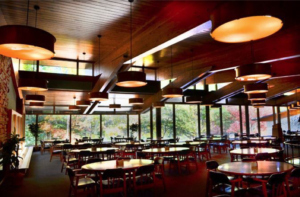 Enjoy dining by the fireplace,  overlooking the reflecting pond in our main dining room.  This room seats 320 and is equipped with sound.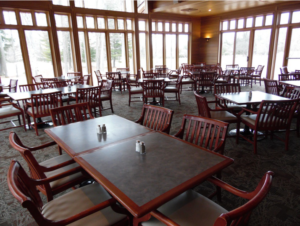 When there are UAW conferences in session,breakfast,lunch and dinner may be available to hotel guests.
Breakfast,  lunch and dinner are served buffet-style in the Center's dining room opposite the main building. Whether you are a vegetarian or a hearty meat-eater,  we will meet every need.  Make sure you save room for dessert!  The staff can also bring to life any dining experience,  both simple and elaborate,  either in the dining room or elsewhere on the Center's campus for your special celebration.
Dining is also available at Black Lake Golf Club,  where you can enjoy a great pizza and much more.
The Clubhouse offers guests a spectacular setting to enjoy breakfast, lunch and dinner.  After your round of golf,  sit and relax and enjoy your favorite soda or libation.
A beverage cart is also available on the course serving your favorite snacks or beverage.
Shuttle service is available from the Center to the golf course.  Leave the driving to us.
Black Lake Golf Club
989-733-GOLF (4653)
2800 Maxon Rd.
Onaway, MI 49765
www.blacklakegolf.com