Black Mountain Forest Recreation Area Enjoy hiking, cross country skiing and snowmobile trails with views of wildlife, Lake Huron and Black Lake. Close to camping, restaurants and Onaway. Click here to view the Black Mountain Forest Path Map.
Black River:  Blue Ribbon Trout Streams Michigan is blessed with an abundance of cold, quality trout waters offering 38,000 plus miles of rivers and streams, including over 12,500 miles of classified trout streams. Remarkably, 868 miles are considered premier top-quality streams, which Michigan classifies as its Blue Ribbon Trout Streams (BRTS). A Blue Ribbon Trout Stream must meet certain standards or criteria. It must be one of Michigan's best trout streams, able to support excellent stocks of wild resident trout, have the physical characteristics to permit fly casting but be shallow enough to wade, produce diverse insect life and good fly hatches, have earned a reputation for providing an excellent trout fishing experience, with excellent water quality. Management of BRTS by the Michigan Department of Natural Resources is directed toward accommodating the needs of trout anglers, maintaining strong stocks of wild resident trout that best suit the character of each stream, maintaining and enhancing trout habitat and the natural stream environment, providing adequate public access and public frontage, and preparing appropriate informational materials on these special BRTS of Michigan.
Ocqueoc Falls is the largest waterfall in the Lower Peninsula. The Ocqueoc River is unique in that it is one of the few rivers in Michigan that flows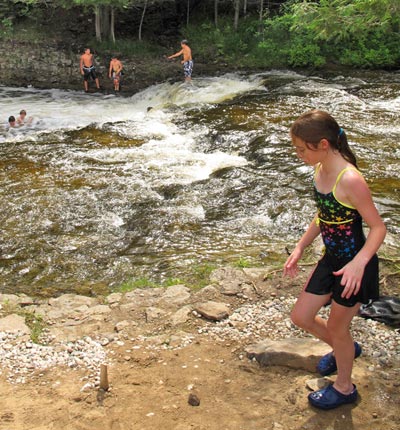 south to north and has two falls with an upper and lower falls about 300 feet apart. The falls' picnic area also features the Ocqueoc Falls Bicentennial Pathway. This pathway follows along the Ocqueoc River and has 3-, 4- and 6-.5 miles of groomed winter trails and many scenic summer hiking trails. The falls parking lot is reached by traveling east on M-68 from Onaway, approximately 10 miles to Ocqueoc Falls Road. This road makes a sharp angle intersection with the highway just after the highway makes a large "S" curve from east to north, then back to east. Turn left on Ocqueoc falls Road to the parking lot on the right.
Onaway State Park,  about 6 miles north of Onaway on M-211, features 99 modern campsites in a pretty setting of virgin white pines, hardwoods and cedars facing on Black Lake. The park was established in 1921. Facilities include a picnic area, playground, beach house and boat launch. Activities enjoyed by both locals and campers include swimming, fishing and hiking. Fishing is abundant in this part of Black Lake with musky, perch and pike. Those inclined to explore on land instead of the lake can take to the three miles of trails throughout the park property. The park is quiet and appeals to those who prefer a quiet, scenic setting.

Other Hiking/Biking: Michigan Trails Council
Sink Holes – Mackinaw State Forest
About the Sinkholes and Lakes: A Karst Region
The bedrock underlying this general area is limestone, which will dissolve easily in water. Sinkholes are formed when large circular caves in the limestone collapse as the water dissolves the rock. This small group of sinkholes is only part of a larger "karsts" system extending eastward to Lake Huron. Some sink holes like Shoepac Lake and Francis Lake are filled with water and some, like those on the pathway, are dry. The bottom of the first sinkhole is more than 100 feet lower than the surface of Shoepac Lake.This karst in Michigan lacks sufficient water pressure to flush out the overwhelming load of sand, clay and broken rocks from 100-140 feet of glacial overburden, which collapsed into the system sometime after the last glacier left the area. The top of the limestone bedrock is roughly level with bottom of the deepest sinkhole. The bedrock extends down several hundred more feet to the top of the shale layer, which does not allow water to pass through, as does limestone.
Silt and clay brought in by small streams have thoroughly sealed the bottom of some sinkholes thereby creating sink lakes. Shoepac, Francis, Tomahawk and Little Tomahawk are made up of one or more sinkholes completely sealed off from underground drainage.Recent active karst collapse can be seen at the eastern edge of Shoepac Lake just north of the campground (1937 and 1976). This is evidence of the ongoing expansion of the sinkholes area.The 2,600 sink holes area has been closed to all motorized vehicles. The closing provides a setting for those visitors who savor the forest solitude relatively free from the fast pace and noise of today's world.The interior of the area only has a network of fire lanes which can provide access. It is recommended that you carry a compass and know how to use it when you explore the forestlands.You are requested to carry out whatever you carried in to help maintain Michigan's beautiful forest environment.