Covered walkways into all buildings bring the outside in and offer a convenience for getting around the Center's campus.
The Center was built to manifest nature's handprint on the facility's development. Our hope is that in this environment we encourage appreciation for nature and create an idyllic setting for fostering better relationships amongst peers and new acquaintances. Guests can choose from several housing options, each offering their own unique conveniences.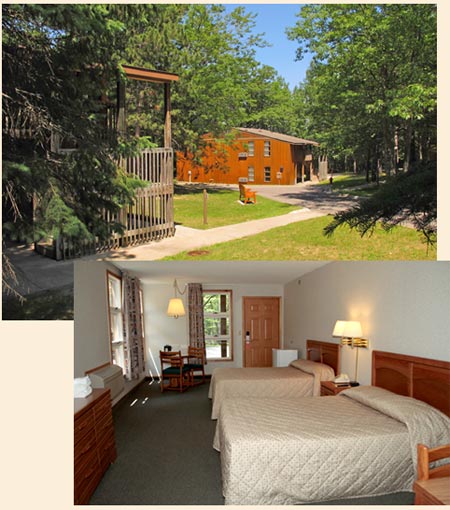 The Center offers a variety of rooms for our guests to choose from.
Our rooms are furnished in a rustic motif designed to remind visitors of a log cabin setting with pecan paneling. The Center has two types of living units. In the family section, living units have two bedrooms and a bath. This area, known as the 400s, allows visitors to get the privacy of their own sleeping quarters and the companionship of a dorm-like setting with family.
The 300s can accommodate 1-2 guests while offering proximity to the main lobby, gift shop, dining and Communications Center. These are fashioned after hotel-style rooms with double beds. All rooms have telephones and televisions.
Both lodging options have large airy lounges and spacious outdoor terraces for casual relaxation. The public areas offer small-group meeting quarters, a big screen TV and a fireplace setting with windows overlooking a lazy river and all that nature has to offer.
Apartments, condos and private chalets offer an exclusive opportunity to dine in our premier dining room or create your own feast in a full-service kitchen outfitted with all the conveniences of home, including a stove, microwave and full-size refrigerator. These residences also offer space for more intimate gatherings, such as a living room, dining room, and 1-2 bedrooms and bathrooms.
The Old Lodge offers themed log cabin quarters with the Hongore Bay Beach just outside your doorstep. The beach extends about 200 yards into the lake with its sandy bottom. This picturesque timber lodge was originally the "Up North" retreat of Detroit advertising executive Lou Maxon. Lucille Ball and Desi Arnaz spent their honeymoon in the rustic lodge. More than 15,000 tons of stone were used in the building.
The Old Lodge is used for meetings, receptions and housing. The community areas feature covered porches, al fresco dining opportunities, a fireplace, alcoves for playing nostalgic games of cribbage, cards and board games. During winter months guests can enjoy the comforts of the Old Lodge.
The Hilltop/Upper Lodge features more modern furnishings and consists of six chalets and a classroom overlooking Black Lake. It's a center of activity and can be rented with sleeping rooms and conference center for smaller meetings. It also provides additional housing for all groups using the Center.
---
Additional Resources: