Whether your plan is to get away from the hustle and bustle of the city lights, or escape the hum drum run-of-the mill conference centers, Black Lake offers a unique experience for visitors.
The experience begins with the fresh open-air grounds, the natural wildlife habitat for creatures big and small, outdoor activities, beautifully wooded landscapes and the unmatched tranquility of Black Lake. The Center is guaranteed to provide a positive and productive atmosphere.
The Center is the ideal setting for organizational retreats, labor union conferences and meetings, family vacations and everything in between.
Conferences, corporate retreats and more, the Center is primed with beautiful grounds, a comfortable environment and the latest technology to suit your needs.
At the Center, nature's footprint is a source of inspiration and calm for any meeting. Guests will find evidence of this throughout the Center's campus, including connecting glass corridors which never hide the natural beauty of the facility.
The Center is handily capable of accommodating groups as large as 320 in its lecture hall, equipped for sound, as well as video and slide presentation. The Center can support your audio-visual needs from LCD projectors, video playback amplifiers, speakers, microphones, overhead projectors or as simple as dry-erase white boards, accommodating any meeting you have in mind.
With its classrooms, library, book store, and staff offices, the  Education Building is the working hub for educational and training programs. The Education Center is ready to meet any of your needs with 12 fully-equipped classrooms, along with five satellite classrooms for break out sessions.
Onsite technical support is also available. Classrooms can be outfitted with computer equipment. We also have a Communications Center with computers, fax and printer to meet your needs.
Visitors can choose to hold meetings in the main Education Center or the Hilltop. A shuttle bus is available for larger groups. Leave the driving to us. We've got you covered, when you are here at the center.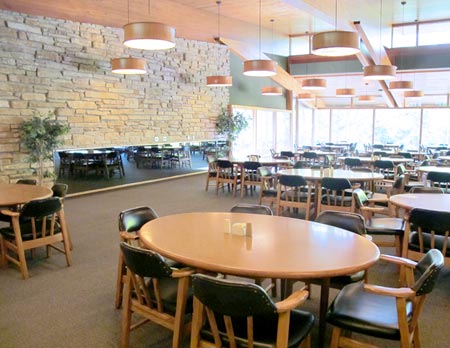 Our staff is prepared to handle groups as large as 300 or a private party of two.
The Center is made up of several buildings, with the main lodging, elaborately connected with intricate hallways, winding paths and structures made of glass, stone, brass, knotty pine and wood. Its airy design brings nature in and carries you through the surrounding woods leading you from lodging, to the world-class gym, to classrooms and the dining hall, without ever stepping outside. This is Black Lake's uniqueness. No center has given so much respect to nature and left it so undisturbed while sitting right in its midst the way this Center has.
The dining room seats more than 300 – with a podium equipped for sound – giving you a comfortable alternative for working lunches and more informal meetings. Overlooking the ponds and wooded hills opposite the main building, the dining room features an ornate stone and cast iron fireplace as a centerpiece to accompany an enchanting meal, offer coziness on chilly days and create an ambiance even when not in use.
After dinner, guests need travel no further than a few steps away for recreation. Unwind and meet new friends at Black Lake by shooting pool or playing ping-pong in the recreation center, located beneath the dining room and lecture hall.
---
Additional Resources: